Gary Sinise and the Lt. Dan Band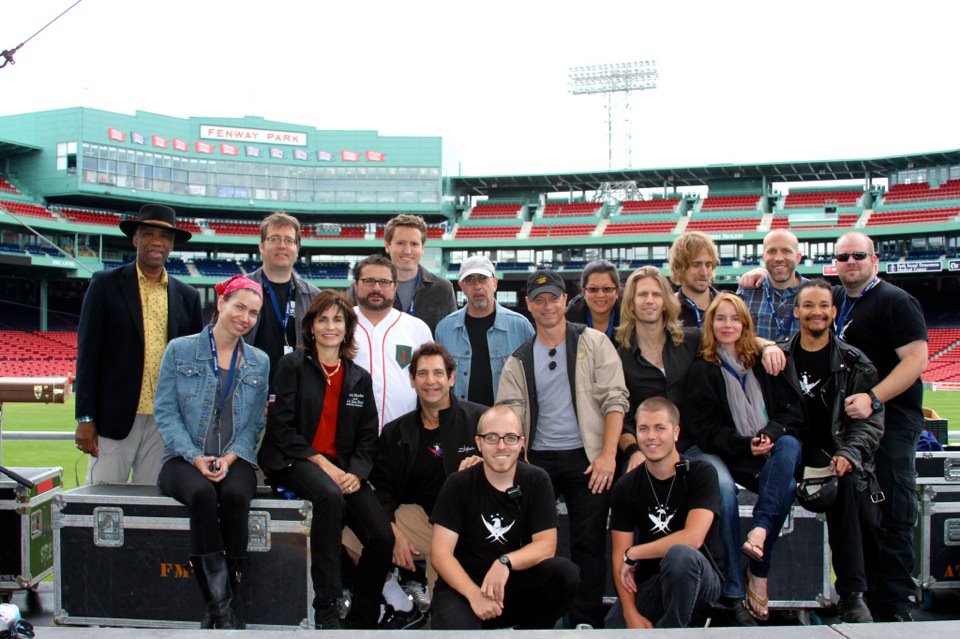 I am the Production Coordinator for Gary Sinise and the Lt Dan Band. A fancy title basically saying the stage manager, backline and audio tech. I have my site broken down into 3 area's of my time with Lt Dan Band. All of my production stuff and time as an intern you can find below on this page.  For my FOH mixing time go here, and for Monitor Mixing here.
Production
In general, I give the spot and video cues during the show as well the guitar tech.  I am also Gary's security for when he goes out in to the audience during the show. Then I dabble in some pre show tour manager work when needed, here is an example of a itinerary I created for an one off show in Albuquerque New Mexico. LDTBAug20thABQItinerary. I have an intern that I manage and while he has set duties, it is crucial that I oversee and double check everything he does onstage.  Below is an overview of everything I do with the Lt. Dan Band written after I just started with the band post internship. Everything listed below are still my duties, however I delegate some to my intern now.
Intro
The Lt. Dan Band is actor Gary Sinise's band that he and Kimo Williams put together in 2003. The band mainly tours and does gigs for the USO, flying all over the world playing on army bases for the troops. Gary started the band because while he was going already on these USO trips and just speaking, he wanted to bring more to the troops, so he started the band.
My Role
My role in the band is very broad. I have duties of a tour manager, sound engineer, guitar tech. Most of my work is done on days of gigs but I do have to do a lot of logistics work in between shows. I am going to run through a typical day for me for a live performance with the Lt. Dan Band to accurately highlight all of my duties. First I am responsible for Gary's bass guitar and Kimo's guitar pedal, they travel with me and I keep them at home in between gigs. I also have to make sure I have the itinerary on me at all times and know it like the back of my hand. When I show up to the venue I have to check the green room and make sure it is like what is in the performance rider. After everything is there, couches, changing rooms, water and red bull and other food is present, I go to the stage and set backline. I set up Kimo's guitar rig and Gary's bass as well as check that they sound and back line company have all the necessary equipment we need.  Then sound check starts and I play the bass with the band until Gary arrives so that the band can get their in-ear mix set.
By this time sound check is over and I need to make sure everyone is going to dinner or the hotel.  I ensure that the transportation and food and everything else that needs to be there is provided and ready for them to arrive.  Before the show, I tune up Gary's Bass and wait backstage with his bass and in-ears until he is ready to start the show.  When he is ready I hand him his stuff and then cue the show to start.  During the actual show I am calling the lighting, spot, and video cues for the band and if anything happens during the show that needs to be fixed like a broken string or an amp blows I fix it.  I manage an intern during the shows and have to make sure I double check that he did all of his duties before the show like change the batteries in all the wireless gear and pedals, taped down the set lists to the stage, put water bottles and towels for every person on the stage, got the lighting cues and sound cues to front of house, and finally brought all the mics and in ear receivers to the green room.
Band is back and the show starts. During the show, I used to have to I have to run the acoustic guitar onstage and hand it to the person playing it. Other than that I am running around doing whatever is needed like making sure security doesn't start getting to lenient, this is the time when Tristan lets me run monitors. Immediately after the show ends I have to grab Gary's guitar from him because sometimes he has to accept an award and shake hands.  I follow him offstage and get him to his room for a quick cool down before he has to do and I have to manage a meet and greet.  Meet and greets I am generally there to make sure things don't get out of hand. Sometimes alcohol gets some fans a little rowdy and I have to make sure they don't get in, but generally its not a problem and I have plenty of security guys on hand.  After that is handled I have to start cleaning up all our gear afterward as well as make sure the transportation is ready at the venue ready to take everyone back to the hotel. Then comes the very long process of getting everyone back to the hotel. This sometimes requires multiple trips that the transportation company does not want to make.  If all goes well and the intern is on his game I will not have to deal with it.  After everyone is back in the hotel my day is pretty much over. In the morning I have no responsibilities except making sure that transportation arrives to take people to the airport which usually means I wake up early and see them out the hotel door and into the van.
Accomplishments during my internship
I am most proud of how fast I came into the band and how I stood out above all previous Interns, enough to get hired on as assistant, and then manager. I think I impressed them early on in my internship with my eagerness, specifically, I ran when things needed to get done in a hurry. Most importantly one of my absolute greatest highlights and complements was from Kimo. After only about 2 months in the band, he had put in a recommendation to a studio downtown for me to be an assistant engineer, a studio I had never heard about or even applied to. It was at that point where I realized that I was a respected person in the band. I think I do the audio stuff the best such as running monitors. I think that has impressed them the most and has set me apart from previous interns. Being able to step into the band and run their monitors was a big accomplishment for me and really gave me confidence to do anything the band asked me to do.
Things I learned during my internsthip
Beaufort South Carolina was the first smoothest show I had ever had as an intern. Transportation was where they were supposed to be and on time. Overall it was a flawless weekend. I think that because I knew and was part of everything that was going on, made it easier for me to answer questions about when or where people were going to be and how everything got together. I learned the most this weekend because I had of great deal of phone calls to make and was making sure everything was all right and if there was an issue I was told about it first. I felt like I had the most control in every question or concern that came up because I had personally gathered the information of where everything was going to be.
The Alaska Tour was the first tour I got to mix monitors and I immediately started learning what everyone in the band liked in their mix. I started learning the board getting quicker and quicker in making adjustments to different people's mixes and nailing the cues that happened during every song. Learning the new board and the song cues were the most fun for me to learn and I jumped at the opportunity to jump on that console. I learned everything about how the console is patched and how the board is internally routed to support outputting 13 different mixes. I have taken it upon myself to download the consoles software and learn the entire setup for the show.
I learned how to problem solve better on this internship. Being a translator is a huge part of the audio world. Musicians aren't technical and don't know what things are like reverb or EQ. So when something doesn't sound right they tell me things like "my saxophone doesn't sound like a saxophone….. fix it". So to I had to interpret that that he needed more reverb. So being able to read people is very important and a difficult thing to be good at. Also when something went wrong I had to quickly narrow down to what is broken so that it can be fixed and the show can go on. So having a good understanding of signal flow is critical and a good skill to have, and with every show I get better at it. So I think that this internship has better prepared me for dealing with those situations.