"the EL"
"the EL" – Art Beresheim
My project I wanted to capture the essence of a Chicago legend, the L. The above ground train is a staple in Chicago history that has been in countless movies and television shows. If you have ever rode the L it is a joy for all senses. The nose goes crazy for the smell of urine, the eyes feast upon dirty seats and homeless, the taste of stale air, the germ invested handrails, and loud roar of the train. What more could a public commuter ask for from an elevated paradise? The L is an interesting place, sonically speaking. There are a lot for the ears to listen to and it is constantly changing. Whether you are waiting on the platform, or riding the train, there are different sounds that are very full and rhythmic. Combining all those quite mechanical sounds of the train's engine and the sound of the wheels on the tracks and the wind of the train splitting the air not only creates a noise, that is dangerously loud but is also something identifiable. Capturing that identifiable sound was very important to me going into this project.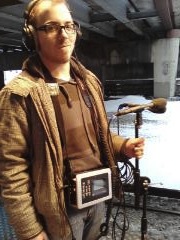 I rented out a pair of condenser microphones, ATM 33a's, set as a coincident pair on a stereo bar connected to a boom pole. I recorded it with a Fostex field recorder.
A technique I used was getting the reflections of the source instead of the source itself. Getting the train entering the station was a challenge because of the overwhelming gust of wind it created as it went by. After a couple attempts, I turned around and faced my mics at the back of what I can best describe as a bus shelter. It was a bench with a concrete back wall with a overhang. This worked great. I captured the reflection of the train without getting the rush and distortion that the wind created.
With all the sounds I captured, I put arranged the piece to tell a story as well as hit a couple themes. The first theme was to capture the sense of loneliness of the El. Having the cold outside doors of the El close to a few passengers of the train talking to their friends as others sit alone by themselves only entertainment is their magazines and others conversations to eavesdrop. Stations can be filled with the life of friends traveling to the next party and street performers but most passengers are alone in their own routine.
I also wanted to symbolize the change of music amongst generations. I recorded a street performer named Kevin Andri-Benjamin Martin (Benji) who is also the lead guitarist for The Co-Midi-Men jazz Band. He was playing great jazz guitar that is almost a forgotten art form amongst newer generations. Cutting from jazz guitar to a group of young girls who were singing a popular song from youtube really brings out the theme itself.
Guitar Performance Credit : Kevin Andri-Benjamin Martin (Benji) was playing a Godin Multiac Benjamin Model through a Roland GR-20 Synth, Benji is the lead guitarist for The Co-Midi-Men jazz Band
Thank You Kevin