Mixing FOH for Lt Dan Band
I mixed front of House for Lt Dan Band for over 20 shows over the past 8 months now while Scott (the main FOH engineer) has been off working on a film. The first is a video of a show I did in Pittsburgh for Building for America's Bravest concert. I shot the video with a GoPro camera and recorded the sound with my measurement microphone. This post sort of travels backwards in time with a few recent shows on top, going all the way back to a brief description of a few of my first times I was thrown into the role last minute.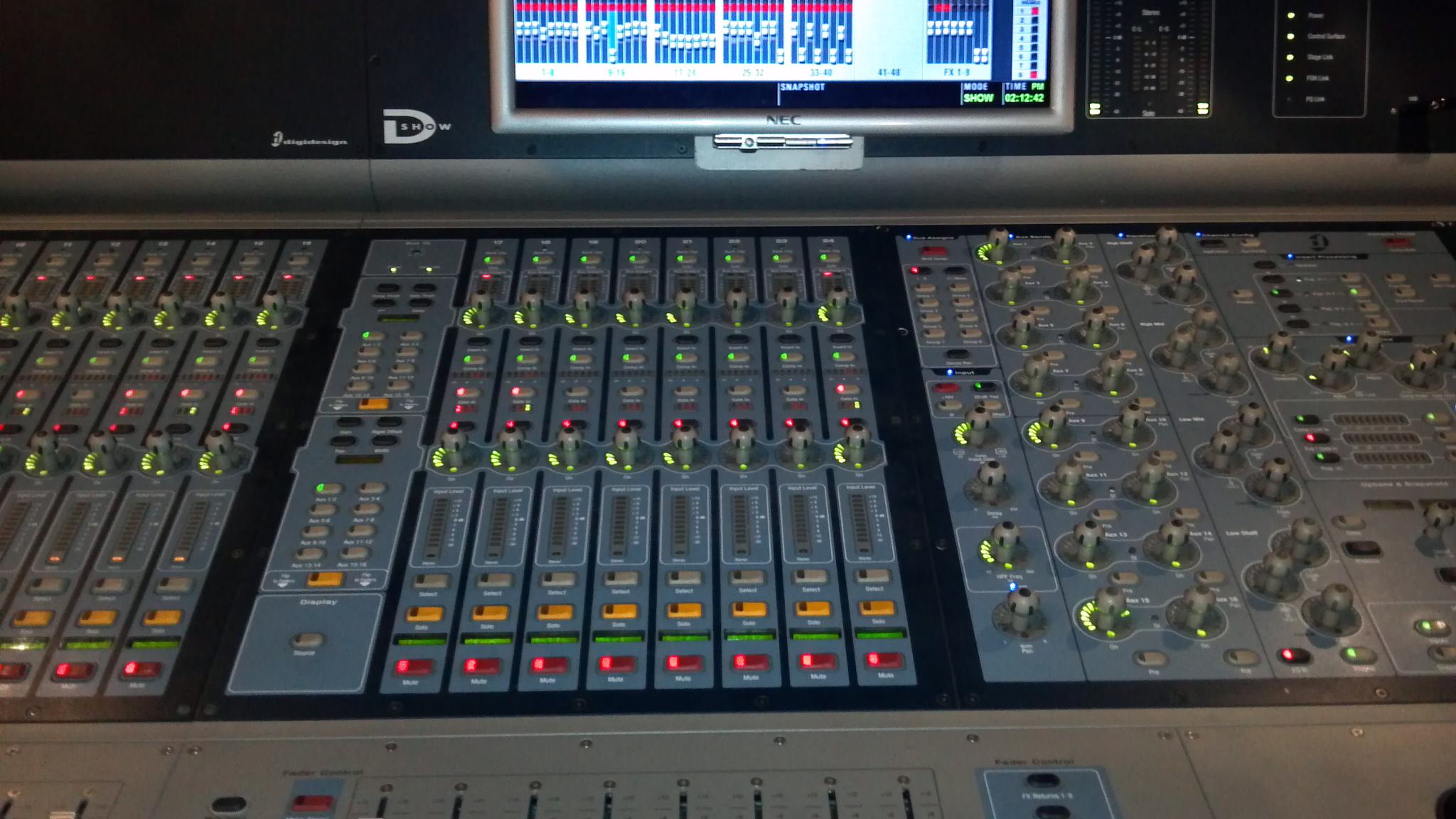 The first time was on a DigiDesign D-Show and I got thrown into the mixing FOH last minute because Scott's flight to Charlottesville Virgina was cancelled. That was a very quick learning experience  because I had never touched a D-Show before and there was no tech there at the venue (the sound company just dropped it off because the show was for charity and they were cutting costs). So no one was there for me to ask questions, I was on my  own. The good news was that Scott sent me his show file and I at least got all the channels and outputs in the right order very quickly.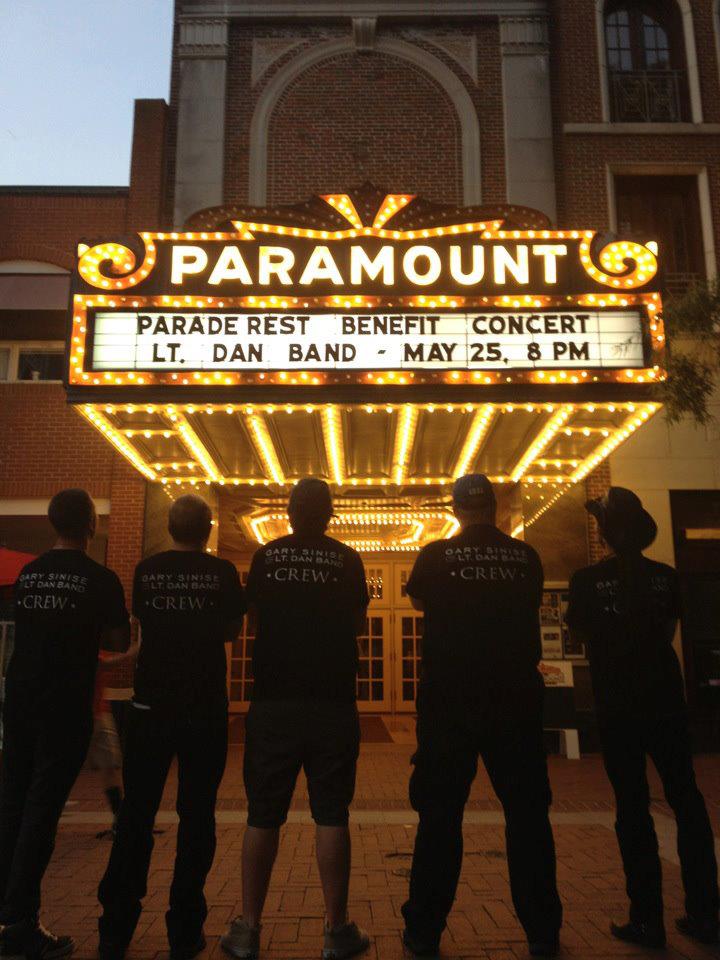 I had to do my own EQ and compression on everything because Scott's show file used the waves plugins that you  needed an iLok for, and with the me getting thrown into the mix last minute, my iLok was back in Chicago. Besides the inistial struggle to get my berings with that new digital board, sound check and the show went on great. Here is a pic of the D-Show and a pic of the Lt Dan Crew posing in front of the sweet theatre marquee.
My second time mixing front of house for the band was in Phoenix Arizona.  This time I had some heads up that I was going to be mixing. So I worked up a Studio Manager file got all my input and outputs set up and even threw in some basic Compression and EQ settings on the channels. That was a great help because most of my time was trying to get my PA to sound alright. We were in a two thousand seat hotel ballroom not only was the slap back horrible, and I only had two subwoofers. It was a great PA, Nexo Geo S if I remember correctly, but with the lack of subs gave such a rich mid range and even high end, but nothing in the low range. I had a hell of a time getting my kick and bass to come out.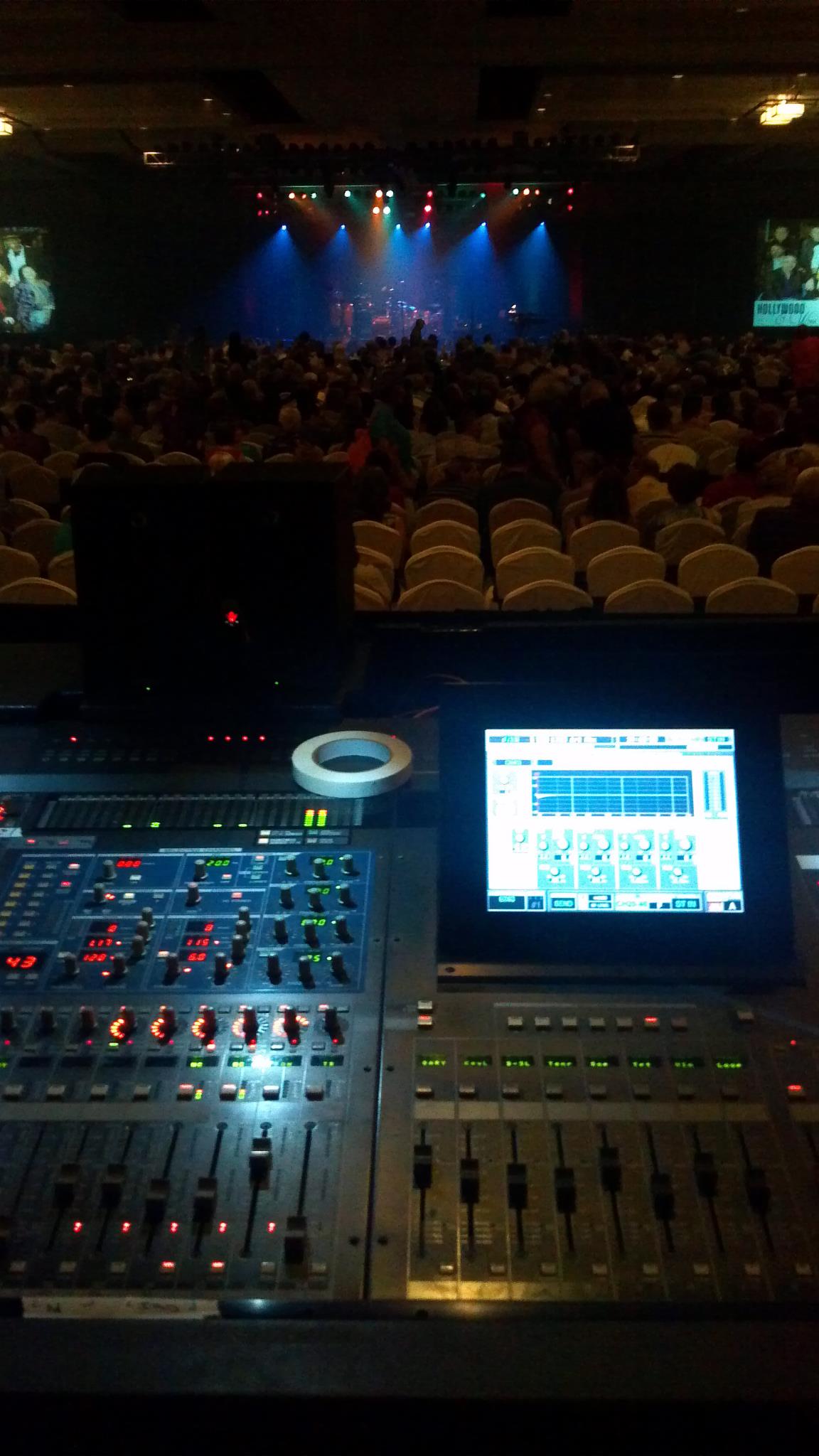 I ended up making it work, I compressed the hell out of the sub mix and sent all I had to the amps racks. I had to mix the show a little bit softer than usual to make it balance right with the subs, mix sitting just around 92 dB, but it worked and the show went great. Below is a pic from my front of house position at that event.
The third time was aboard the USS Midway in San Diego. Got my first chance to do a show on a DegiDesign Profile and it was awesome.  The show could not have gone better and below is a pic from that day.